Summer 2011
Long time since the last update. Even if our last releases was available on the web, the site is stay inactive during a little less than one year. So we arrange it. You could find now the reference of our last 6 albums published in 2011, download & torrent link as usual, and you'll find a new function the "stream link" to could have albums' preview.
Brat, ValkyR, VA compilation and Lordindus join us to complete our electronic side, darkstep, electronica, *core, idm, a large pannel of new sound complete our catalogue. We highly recommended you the album of ValkyR and his very promising darkstep, and of course don't failed the Ep of Brat and his versatile sound, between electronica and breakcore with a hight punk-grind energy in it, his EP his very representative of what we like in electronic on Wildness, we want more like that :). In the Extreme Metal part, you'll find the new Ep of Nocturn Deambulation, for those who are already familiar with his very personnal death/black metal, you'll be surprise to discover his new orientation, the album received great feedback from metal webzine, principally for his sound' quality and his very unique way of composition. To conclude these little news, we decided to add on our catalogue The Theory Of Nothing, a side project of Jeremy Gluck, active since the 80', he bring us to a spoken word area, melting ambient to oldschool rock, new genre and experience for Wildness.
---
Summer 2011
Mental D-struction - Extrapolation Of Human Perspectives |CD album|
We released few month ago on our sublabel -Contagious programm- the album " Extrapolation Of Human Perspectives" from Mental D-struction (single CD format). It compiled two years of published audio material. You'll find on it "Doomed" "Edge Of Depressed", "Discharge", "Jeremy 25.30", "Arbeit Macht Frei".... 14 songs in total. This is the long version of the Extrapolation² ' album who was released with more than 14 netlabels in September and October last year, celebrating the internet interaction and Creatives Commons.
Tracklist on Discogs.
You can buy it at a very small price on the official website (4€ postpaid include - paypal security paiement) : http://www.mentald-struction
or on Discogs with few additionnal fees.
You 'll also find it on various electronic and industrial mailorder as Subvert Records, Shinto Records, Demonexus, The Eastern Front ...
Don't failed it, it has been print at 500 ex. No repress.
---
October 2010

Wild 077 by Dark Opera black metal from Italia, a 5 song ep recorded in the end of the year 2006, who give us a good idea of the potential, more exactly the reality of this Italian, always in activity. Really melodic, fast and aggresiv. http://www.myspace.com/darkoperablack

Wild 075 by Mental D-struction, a 7 song ep co-released with 14 other netlabel to celebrate the internet communication and interraction. Songs extract from an upcoming 14 songs albums who'll out in the end of this year on Contagious Programm. Between power electronic, atmospheric speedcore and breakcore : a good vision of deviant electronic. http://www.myspace.com/mmentaldestruction - http://www.mentald-struction.com
---
September 2010 -- ELECTRONIC COMPILATION -- SUBMIT YOUR SONG!!
Read this or Check Our Blog
"Hello Folks,
Wildness is proud to announce that's a new electronic compilation is on the way. We decided to open the submission to every project, every band who are interested to get a chance to appear on it. The format of this compilation 'll be a mp3 web-release, available on free download & diffuse under a Creatives Commons licence (BY-NC-ND 3.0).
Rules :
- Genre / Type : EBM, IDM, Breakcore, Industrial, Hardcore, Speedcore, Mash-Up, Drum N Bass, Darkstep, Experimental, Digital, Deviant, Aggrotech, Ambient...
- Song Timing : 6 min. max.
- Submission Per Project : Only 1 song 'll be release per artist/project on the compilation but you can, during the submission time, submit until 3 songs.
- Mp3 Format : Mp3, 192 kbps. (To convert your song you can download this free legal soft - click here)
- Deadline : 3rd December 2010
- Exlusivity ? : We are not asking any exclusivity on your song.
You keep all your right on it.
But understand that your work CAN'T be accept and consider if you and the song that you submit are a part of any copyright agency (GEMA, Sacem...), in this way understand that remix of commercial song or copyrighted material can't be accepted too.
To submit your work, send us a download link (with Megaupload, Yousendit or other file hoster - Rapidshare is not really appreciated) to jpkjpk@hotmail.fr or attached your file on the email (max. 10mo per email).
To finish, remember that even if we are not limited per space with web release : only best songs, the pieces that we most prefer 'll be selected to appear on it, so be creative, intelligent, in the closest of your feelings. Just surprise us, & give us highlight emotion, and remember - the first of all : make you pleasure -
Wish you a good time - here we are ready!"
---
Mai 2010 - THe BReaKy MoNtH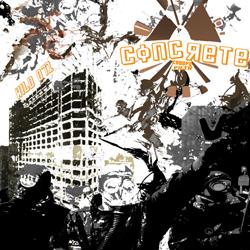 Wild 071 - Concrete Creeps Filth - Beton Arme
CCF is an alias of Audiocum, french freak noiseur & DIY activist, owner of the label CNCCR. "Beton Arme" is a type of retrospective of his previous release out ion cd-r in previous years. He offer you now with this 9 way, a noisy & distorted breakbeat album, from ambient to noise, doom to broken beat with a groovy & hip hoping state of mind. A must to have for the addict of loud break noise.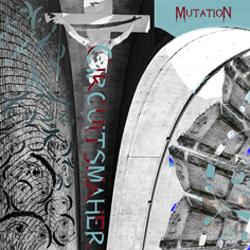 Wild 070 - Circuitsmasher - Mutation [ Co-released with Chase Records ]
"Circuitsmasher duo is a collaboration between Paul Bolstridge [aka Pirtek] and Evelyne Manganese [aka Mental D-struction].
For their new release, they offer 4 tracks that can be described as orchestral Breakcore and instrumental Darkstep. Dark drum programmings from Paul are enriched by Evy's epic synth layers. Mutation Ep consists in sharp dark drum'n'bass / break arrangements surrounded by insane atmospheres and vocals that make Circuitsmasher's music goes totally mental." Chase Records
Many thanks to Remy (Chase Records) for this collaboration.
---
April 2010 - Back tO Metal
This Month Wildness is back with two great metal album, First is from Pandemonium (Wild 068) - Swedisch black metal band, really epic with few touch of folk and symphonic arrangement. Band created in the end of the nineties, they had already release several album in CD format on label as Prodisk, this album " Whispers " was record in 2008, and was only diffuse on a free downloadable way, now available here! Enjoy
Wild 069 is an album from Lost World Order, german thrash metal band, in the vein of the master in this genre, 8 way album who is also available in a vinyl format edition (you can buy it from their website). For the true fan of thrash metal. (April 10)
---
March 2010 - Mass Infection
Two songs from Mental D-struction, "Last Breath" and "Discharge" has been featured on the Dark Spy CD Sampler ( join to the german gothic magazine publish in Germany, Switerland and Austria) (dark electronic to goth rock)
Dark Spy Website : http://www.dark-spy.com/ (March 10)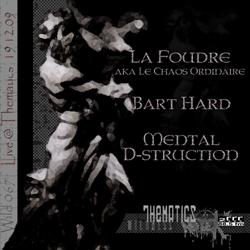 Wild 067 - Bart Hard, La Foudre, Mental D-struction
Co-organize with Thematics (Sydney - Australia), a fm radioshow diffused each saturday on 2RRR Radio, oriented on all underground music (post punk to electronica and noise). Wild 067 propose you 2 Hour Of Dark, Aggresive, Noise, Orchestral, Speedcore live set from France and Netherlands. Diffused the 19.dec. 09, it's now available on free download here.---> Powered BY Thematics (2rrr Radio) @ Sydney
http://www.thematicsradio.com/
(Dec. 09)
---
Wild 066 /065 /064 OuT NoW!
A new bunch of terror, speedcore, shitnoise, exprimentation and goregrind is arrive on Wildness.
Wild 064 : Split album from Pyrrhon [France] and Lordindus [newcomer from Switerland] oriented in speedcore, noise, deviant electronic, 9 way for a dark, agressive & experimental album. For all freaks of fast Bpm and loss of control, we highly recommended this experience.
Wild 065 : VA - Worldwide Noiseur Mothafuckers. Mother Of Gosh [Russia], Individual Distortion [Indonesia], The Whorehouse Of Nagasaki [nc. Austria] & Jack Gore Grind Surprise [nc. Australia]. This split album is a nice collapse of goregrind, noise, experimental, shit noise, electronic from all the world, combining 4 different vision of noise and music. You'll lOve or HatE! A good way to test your dualism! Enjoy!!
Wild 066 : First ep from Iscariote666 [France], he appeared the 1st time on Wildness on our last terror/speedcore/hardcore compilation [Wild 059]. This 6 way album is encouraging for the future of I., oriented on terror, hardcore & gabber. This ep is really representative of the fascination for distortion who is shared by many people on the terror and hardcore scene. Distorded kickdrum, addictive basical melody, all ingredients are in it to alienate the mass.
---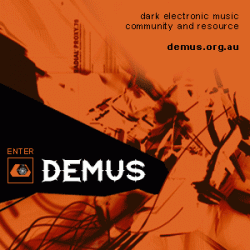 Demus is an online resource for fans and musicians of dark electronics and all related genres - industrial ebm noise electro idm gothic darkwave, as far as your ears will allow. Our aim, and the purpose of our community is to get independent music exposed, heard, promoted and performed, without compromise, without corporate assistance and without restraint. A new 2 CD- compilation is just out and is now available to order, all greats australian composer invested in dark music are present in it, the album comes in a nice and professonnal packaging for more than 2 hour of dark and deviant music. Two of our artists are present in it : Nosens and Mental D-struction. For order or have more info about Demus, you can check these link :
http://www.darkstereo.com http://www.tidalportal.com/DEMUS/
---
Wild 063 - Realicide - Digital Scraps 2008
Digital Hardcore / Punk / Gabber
!!Out Now On FREE DOWNLOAD!!
Realicide is a great underground collective base in USA.
This release was originally assemble to be a c20 tape, but was never published.
It now available on free download here for our own pleasure.
---
Wild 062 - EvilMinded - Complex Corrupt
Industrial / Rythmic Noise / Hard Electronic
The 7th album from EvilMinded.
E.M. is Guatemala's sick, twisted and perverted machine of noise… It is
the sonic Guerrilla that has eclectically blended genres such as industrial, digital hardcore, punk, speedcore, grindcore… it is as many have known to call it: "The demise of the -idiot- consumerism and the subversive voice of a struggling generation".
---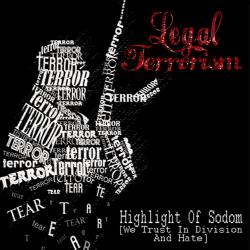 Inform Nation 01
Out Now! Inform Nation 01 (August 09)
5 way CD-r from Legal Terrorism is out now on a limited 50 copies mini cdr (fullcolor artwork, stickers incl., 6 € pospaid everywhere incl.)
This is a hardcore ep.
Preview, details, order... contact us!
---
---
---
---